Emigration to Canada
The family members I am aware of who came from this town are:
My great grandfather, Lazar Wartelsky (1842-1912) and his wife Rasha Shnipitsky (1842-1902). I believe they emigrated to Canada in around 1885 (or in 1865). They had seven children: two sons and five daughters born between 1863-1869 (or so). The two sons were Hiram and Nathan and the five daughters, one of whom is my grandmother, are shown in the following picture. I believe she is in the middle of the photo. I do not know where or when it was taken.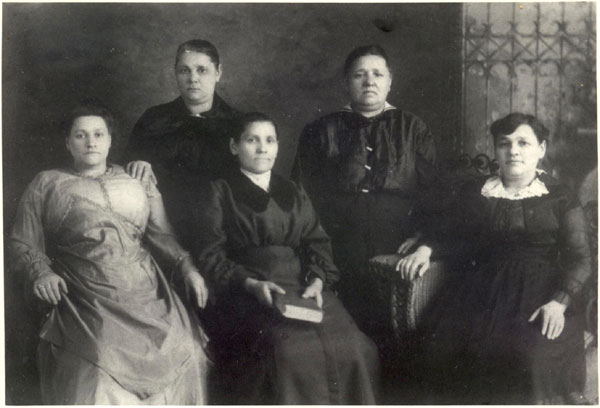 Left to Right: Leah, Jennie, Hattie, Ida, & Sarah.
My grandmother, Hattie Wartelsky (1865-1936) married Louis Sandalofsky (1862-1946) in Vištytis and they emigrated to Canada in about 1885. Hattie's sister Jennie Wartelsky (1863-1941) married Joseph Sandler (1866-1943) and they emigrated to Benton Harbor MI. Joseph Sandler was probably related to my grandfather as we suspect that his name may have originally been Sandalofsky.
One of my great aunt's daughters married one of my father's brothers, so there is a relationship in two directions to the above families.
The following picture is of Louis Sandalofsky and Hattie Wartelsky's 50th wedding anniversary held in the late 1930s in Montreal. The family name at that time was Sandys.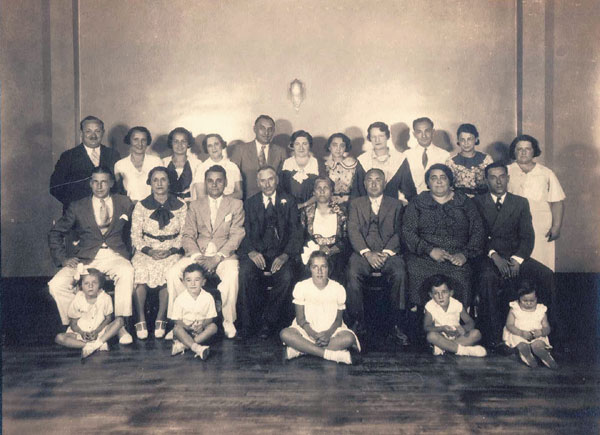 photo by "Street Photo" of Montreal
This last picture is from the Sandler family reunion held in Toronto in 2004.
photo by Ian McPherson
The Sandalofsky and Wartelsky families of Vištytis were, apparently, very large and there are many individuals scattered around the globe with the same family names. I have seen many variations of the above names but suspect they are all members of the same extended family.