Making our way to Vištytis
Getting from Vilnius to Vištytis is quite easy. We drove there in about three hours on good quality two-three lane inter-city roads. The turnoff to Vištytis is onto a two-lane road, narrower but still very easy to travel on. Most of the terrain between Vilnius and Vištytis is flat, but the last few kilometers offered gently rolling hills.
When we were quite close to Vištytis, we crossed a major road leading to Poland and saw signs showing a distance to Warsaw of 285 kilometers. I assume the drive from Warsaw to Vištytis would also be quite easy. The Polish border is six kilometers from Vištytis. We learned that the day after our visit, Bronislovas Polita, the mayor of Vištytis, would be meeting with Polish officials to discuss a new border crossing and customs house in Vištytis.
Our first stop was at the edge of town to have our picture taken at the sign at the entrance to Vištytis.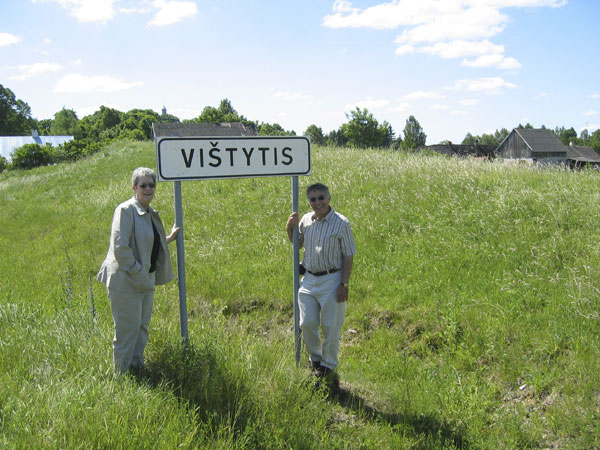 Our first stop: The entrance to Vištytis
Next, we made our way to the Vištytis Secondary school, which contains a local museum in one of the classrooms. Our visit was on June 20, probably at the end of the school year, so we were fortunate to find that the museum curator, Mrs. Birute Mardosaite, was still present. She very kindly led us through the museum, showing us many of the displays using her wooden pointer (a universal tool of secondary school teachers, it seems).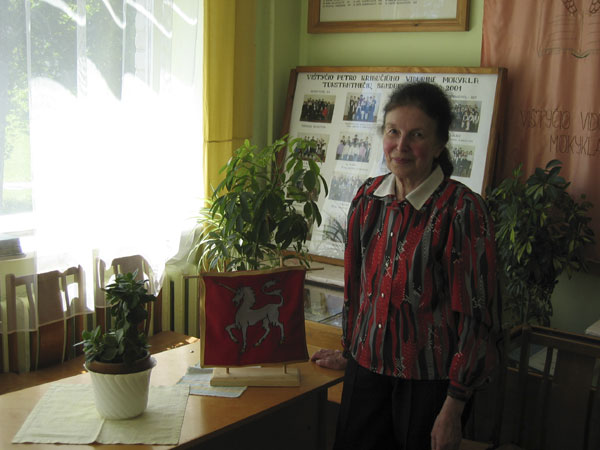 Mrs. Birute Mardosaite, curator, standing next to the town flag in the
Vištytis Secondary School museum room. Note the wooden pointer.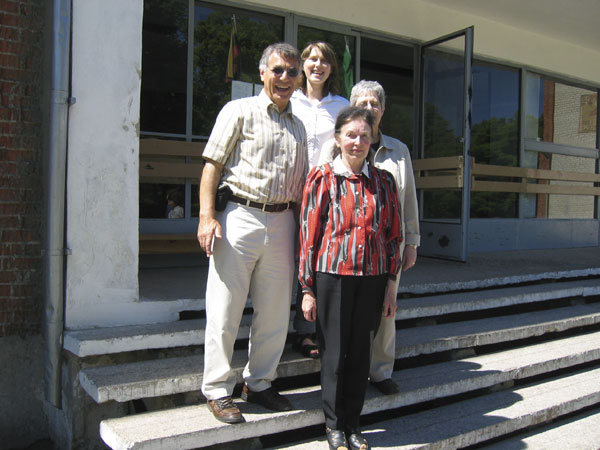 Here we are on the steps of the Vištytis Secondary School.
The school's museum curator, Mrs. Birute Mardosaite is in front of us,
and our guide Ruta Puisyte is standing behind us.