The Jewish Memorial in Vištytis
The Jewish mass burial site is right next to the Grist Mill which is at #11 on the Vištytis Town map and is shown at the bottom of Bert's map.
The stone indicates that 222 Jewish residents were killed and buried there. Bert Oppenheim was told that local residents did this.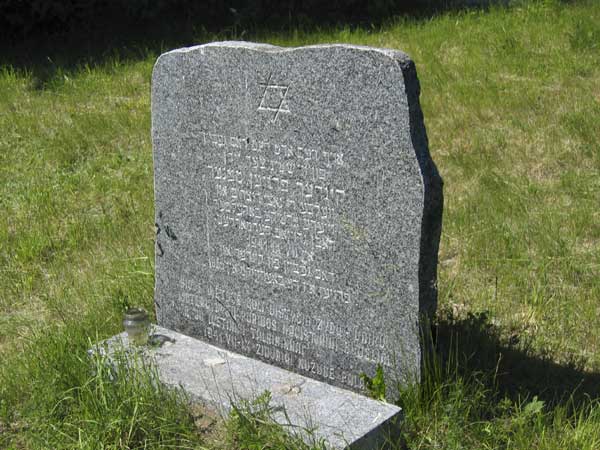 The stone had been on the pedestal shown in the foreground but had been knocked off several times so they have left it as shown. The memorial is located about 20 Meters from the Grist Mill. Right behind it is another memorial put up by the Soviets commemorating the same mass murder but it did not mention that the victims were Jewish. It stated that the victims were killed by the fascists.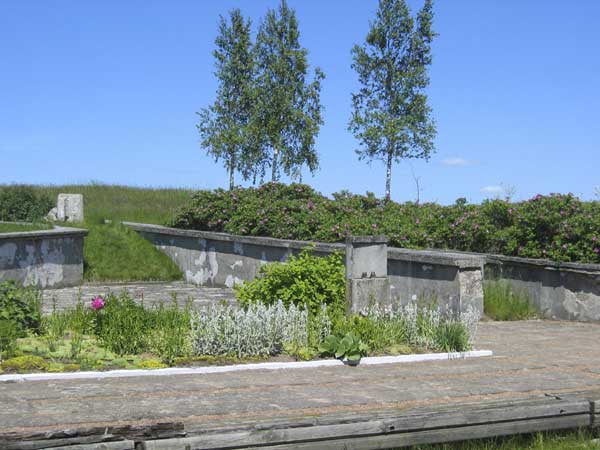 Opposite the memorial, the field shown in this picture slopes back towards the house shown in the background. Bronislovas told us that there were about another 160 Jewish residents buried in that field. They were murdered at the same time or about the same time.
The next few pictures are of the Grist Mill: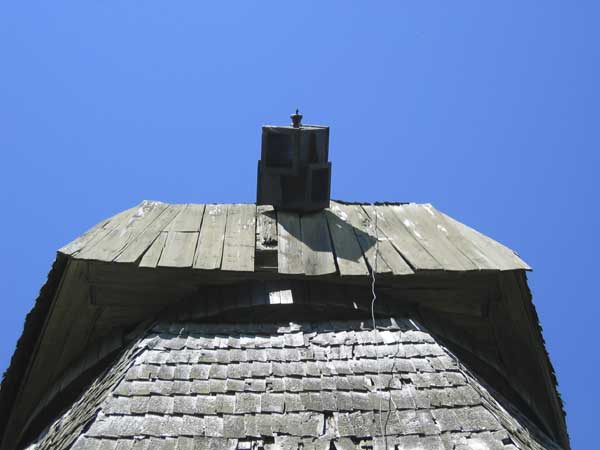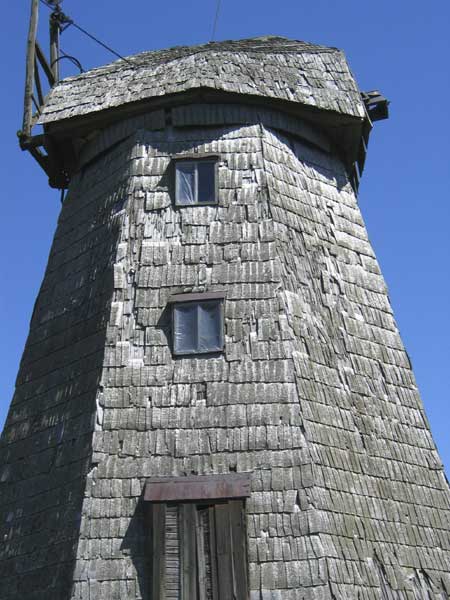 and one of our group standing in its shadow with the field where the residents are buried in the background.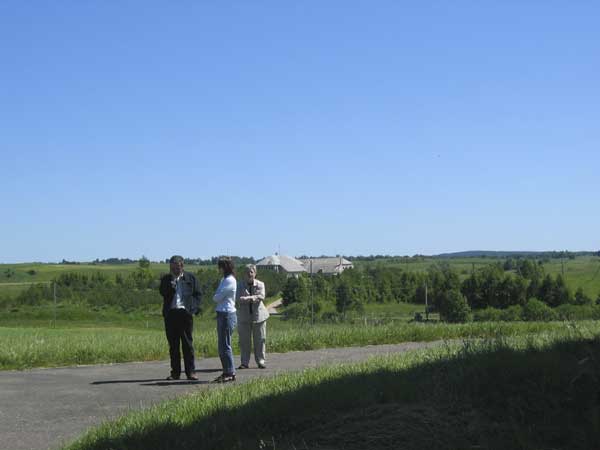 The mill no longer has its sails and there is a sign over the door stating that it is an archeological Museum. The mayor said that there is currently a family dispute over the ownership of that parcel of land and the mill, so the museum has been closed. He said that it still has all of the mill machinery inside. The building looks very rickety.
We left the Grist Mill site and went for a short drive to have lunch at the lakeside resort. It is called Viktorija Leisure Resort by Vištytis Lake. Interestingly, it was formerly a Pioneers' camp. The next picture is the lake from the shore at the resort.
In the following shot you can see one of the buoys marking the Russian border.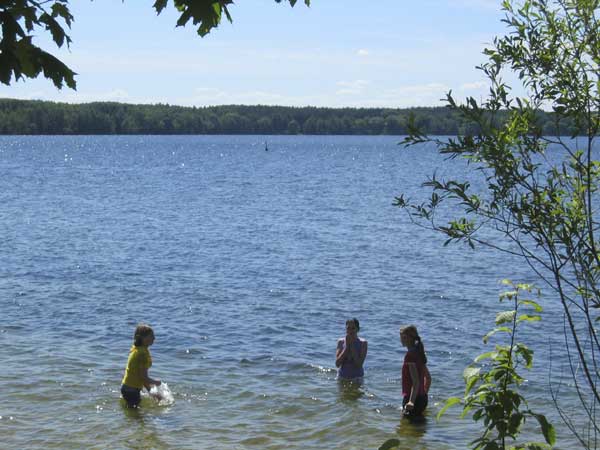 The resort is at #22 on the Vištytis Town Map.
There was an outside terrace where we had lunch by the lake. The next pictures are views of the resort: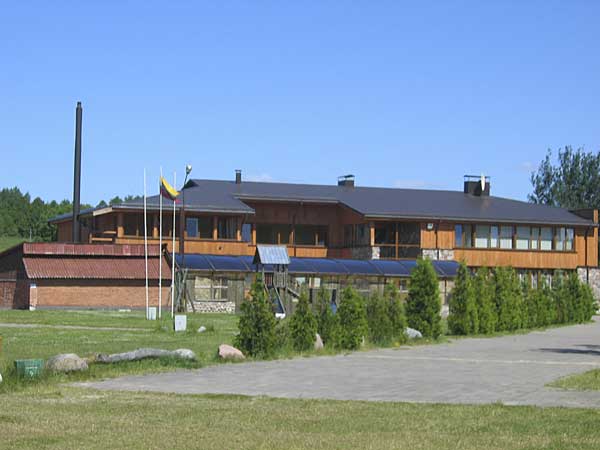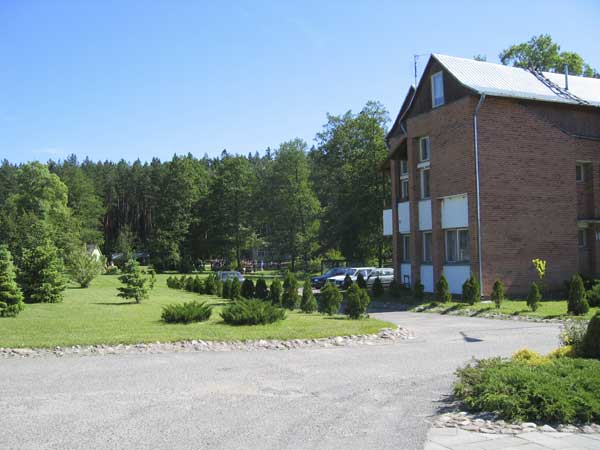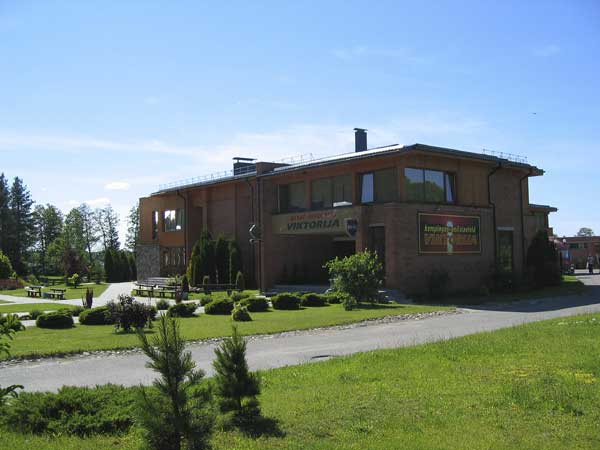 Over lunch the mayor related the work he had done with a wealthy developer who had planned to put in an upscale resort by the lake. They did quite a bit of work on the project but it ended when the developer had an affair with a Lithuanian woman and left the project to pursue that opportunity. Following our lunch we drove the mayor back to his office and drove back to Vilnius.